Bryan Ellis' passion, success has him back at WKU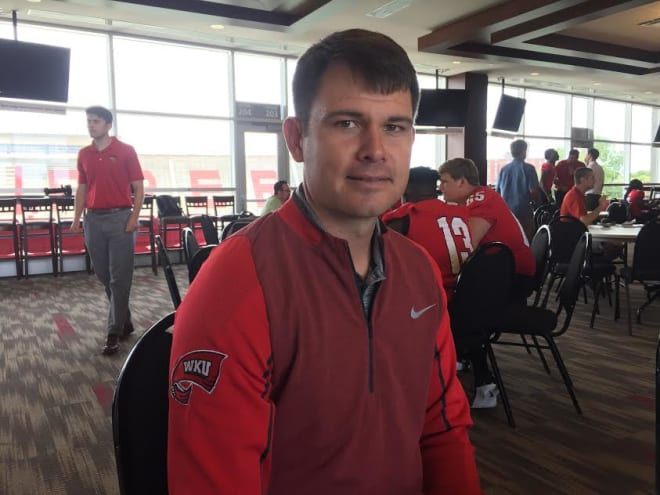 Bryan Ellis has known what he's wanted to do for quite a while.
Ever since he was just a little boy, Ellis has wanted to be a football coach. Well, he played and had young aspirations to one day be compete at the professional level, but with slim chances of that happening coaching always remained at the top of the list.
"I've known since I was about five years old what I wanted to do," Ellis said. "Growing up and being a coach's kid and seeing the impact he had on lives and being around the game of football, it started very young. The first goal was to play quarterback in the NFL, but at about six I figured out that wasn't going to happen. I wanted to coach -- and it's been good so far."
A Byron, Georgia native, Ellis played college football at Alabama-Birmingham. The 6-foot-2 quarterback took over starting duties for the Blazers in the fourth game of the 2010 season against Tennessee and went on to throw for 2,940 yards and 25 touchdowns that year.
Ellis, who currently ranks seventh all-time in career passing yardage (3,697) at UAB, almost immediately jumped into the coaching world after wrapping up his playing career in Birmingham in 2011 -- joining then-head coach Garrick McGhee's debut staff as an offensive graduate assistant for the 2012 season.
That first coaching staff Ellis was a part of included both Jeff Brohm and Tyson Helton, who were serving as offensive coordinator and running backs coach, respectively.
"I've worked for some really, really good guys. Not only great offensive minds, but good people," Ellis said. "Coach McGhee at UAB gave me an opportunity and he didn't know me from anybody. I went in there after I got done playing and for a full semester basically volunteered. Coach Brohm was the offensive coordinator, coach Helton was the running backs coach, Richard Owens was the tight ends coach ... we had a heck of a staff."
It didn't take Brohm and Helton long to see the potential in the young Ellis.
After Brohm spent the 2013 season at Western Kentucky serving as Bobby Petrino's offensive coordinator and was named head coach in 2014 after Petrino departed for Louisville, Brohm put the band back together -- hiring Helton as his OC and giving Ellis an offensive quality control position.
"Getting the opportunity to come here to Western Kentucky the first time, again I'm back with coach Brohm and he's the head coach, coach Helton's now the offensive coordinator here, and I really grew understanding how to coach football, what's important and how to do things the right way," Ellis said.
Brohm was fully aware of Ellis' growth after WKU put together an 8-5 season in 2014, promoting him to running backs coach in '15. Holding that title, Ellis was in charge of a dominant rushing unit that included guys like Leon Allen, D'Andre Ferby and Ace Wells.
With the help of that trio -- and an all-around loaded roster, the Hilltoppers assembled the best season in their FBS Era history, compiling a 12-2 overall record and a perfect 8-0 mark in Conference USA play to go along with a C-USA championship, Miami Beach Bowl win and a No. 24 ranking in the final Associated Press Top 25 poll.
Following another successful campaign in 2016 -- this one with Ellis serving as the passing game coordinator and wide receivers coach -- that included WKU winning 11 games, a second consecutive C-USA title and the Boca Raton Bowl, Brohm departed to take the Purdue job and Ellis joined the Southern California staff in an offensive quality control position. He also spent the 2018 season at USC as the quarterbacks coach.
"Getting that opportunity in 2015 to be the running backs coach, I'm forever indebted to coach Brohm for allowing me to get my start," said Ellis. "Then, getting to go out and coach at USC for coach Clay Helton -- one of the finer men in this profession that you'll ever meet, he taught me a lot about the professionalism of it. Wins, losses, those are important, but it's how you treat people."
After spending two years out West, Ellis is back on The Hill to serve as Tyson's offensive coordinator and quarterbacks coach.
"I've known Bryan since he was 18," Helton said. "Right from the get-go as a player, you just could tell, 'Hey, this is a guy that has the it-factor. He's special.' He's done a great job in his coaching career. Everything he's ever been asked to do he's excelled at. He's mastered his craft. I knew early on as we worked together that I was hoping one day if I was able to be put in this position, he'd belong with me."
When Helton offered Ellis the position, he couldn't turn it down. The two offensive gurus have worked side by side for most of Ellis' young, successful career and WKU is a place that means a lot to the both of them.
"I think we've got a good staff. I really believe in our head coach. I wouldn't have come back here if I didn't believe in him and have the trust we have together," Ellis said. "I really like the guys that we have on staff, a couple of 'em I've known for a long time. Really trust their coaching abilities and trust them as men. I think we hit on some really good staff members. We have a great combination of personalities -- which is a good thing -- and we're excited to get going."
WKU's confidence level is at an all-time high entering the 2019 campaign, mostly due to the fact that the entire team is fired up and ready to wipe the bad taste of a 3-9 season in 2018 out of their mouths and get the program back to where it once was.
Having a coaching staff that includes people like Ellis and Helton -- guys that were instrumental in the program's rise to prominence just years back -- is a big plus.
"I really missed this place, I'm not gonna lie," said Ellis. "We have a group of kids with a chip on their shoulder. They believe they should be in better places -- and they're out to prove that week-in and week-out. I think having some success that we had before, it gives the players instant belief and instant confidence in you. That goes a long way for those kids."

-- Follow InsideHilltopperSports.com beat writer Tyler Mansfield on Twitter at @ByMansfield. --