Mansfield: WKU solid option to replace UConn in AAC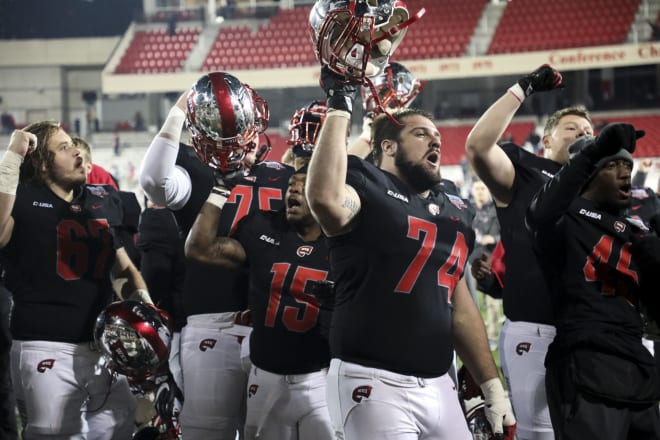 In today's collegiate sports world there are changes being made nearly each and every day.
Student-athletes are making their decisions to either commit or transfer, coaches are being both fired and hired, schools are having to find ways to operate their athletic departments while dealing with financial issues, and often institutions are choosing to switch athletic conferences for numerous reasons -- most recently with UConn choosing to make the jump from the American Athletic Conference to the Big East.
UConn, which actually is a former member of the Big East, leaves the AAC after a successful run in the conference. From athletic success -- most importanty the dominance of Geno Auriemma's women's basketball program -- to consistent attendance numbers and academic achievement, the Huskies are a great fit for the Big East.
With UConn departing from the American Athletic Conference -- officially beginning play in the Big East in the 2020-21 academic year -- there is a spot open for a new team to join the AAC.
Western Kentucky, currently a Conference USA school, could be a solid option.
The AAC is currently made up by 12 member schools: Cincinnati, ECU, Houston, Memphis, SMU, Temple, Tulane, Tulsa, UCF, USF, Wichita State -- and UConn. With UConn out of the picture, that leaves 11 schools, most of which relate to WKU in the aspect to which they're larger and more nationally-known than a low mid-major but not as recognized as the national Division I powerhouses.
It's also important to mention that a majority of the AAC's current schools -- nine to be exact -- were in C-USA before transitioning over, so WKU being the next to do so wouldn't come as a surprise.
Looking at Western, its athletics department has been highly successful over time and made noise at the national level.
The Hilltoppers have been highly recognized in men's basketball and sit towards the top in numerous statistical categories, the football program was built up by former coaches Willie Taggart and Bobby Petrino and later brought to prominence by Jeff Brohm, women's basketball has seen consistent success and Travis Hudson has transformed the volleyball program into a powerhouse, among many other accomplishments.
To top off that success, WKU has won more championships than any other C-USA program since joining the league in 2014.
Aside from the on-field success, the Hilltoppers have seen great classroom achievement over time and last November posted their highest Graduation Success Rate in program history with an overall GSR of 85. Additionally, 47 WKU student-athletes graduated this past May with a cumulative GPA of 3.21.
Alongside athletic success and academic achievement, attendance is another pivotal factor -- and WKU has been solid in that regard.
Football averaged 14,231 fans through five games at Houchens-Smith Stadium in 2018, while men's basketball brought in an average of 5,809 over 14 contests at E.A. Diddle Arena a season ago -- the program's highest per-game home attendance since Diddle was renovated in 2002-03. The Hilltoppers' men's hoops squad also enjoyed a sell-out crowd of 7,614 -- the fourth-largest single-game crowd since the arena's renovation -- last December when WKU upset then-No. 15 Wisconsin.
There are numerous schools -- and some speculated suitors -- that will make their case to the AAC on why they should become the next member, and Western Kentucky could be a solid option.