Rating WKU's 2021 Conference USA Opponents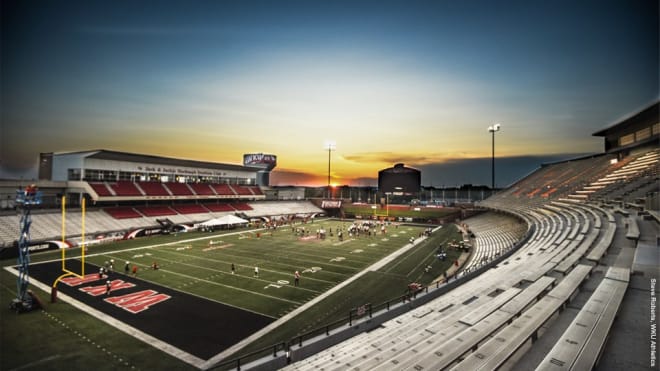 Coming off a 2020 season that was one unlike any other due to the COVID-19 pandemic, Western Kentucky – which put together a 5-7 campaign with an appearance in the LendingTree Bowl – returns to the field September 2 to kickoff its 2021 slate with a non-conference matchup against FCS program Tennessee-Martin at Houchens-Smith Stadium.
With the season just over two months away, Inside Hilltopper Sports takes a look at the Hilltoppers' 2021 opponents in a two-part series that ranks each opponent by who we believe will be the not-so-strongest challenges and who we believe will be the strongest challenges.
In Part Two of the series, we focus on the Conference USA portion of WKU's schedule, ranking the opponents from No. 8 to No. 1.
8. Old Dominion (opted out of 2020 season)
This Season's Meeting: Saturday, October 16, 2:30 p.m., S.B. Ballard Stadium
Last Meeting: October 5, 2019, WKU 20, Old Dominion 3
Offense: Old Dominion chose to opt out of the 2020 season due to COVID-19 reasoning, but the Monarchs went just 1-11 overall and 0-8 in Conference USA in 2019.
In a season that featured just one win for ODU, a season-opening victory against FCS program Norfolk State, the Monarchs averaged just 16.25 points and 273.8 yards per game while the team's quarterbacks combined for only five total touchdown passes.
Coming into the 2021 campaign, senior quarterback Stone Smartt – who threw for 1,006 yards and a TD with six interceptions in 2019 – will be expected to be the starter for ODU.
Defense: Old Dominion's defense gave up nearly 30 points and 370 yards per game in 2019 despite having linebacker Lawrence Garner – who recorded 111 tackles – and he's now departed from the program.
With Garner gone, the Monarchs will look to linebacker Jordan Young – who made 86 tackles and recorded an interception in 2019 – to lead the way on that side of the ball.
Summary: Old Dominion hasn't had a winning season since 2016 and will continue to try and rebuild in 2021. The Monarchs have a new head coach in former Penn State offensive coordinator Ricky Rahne, so that should help their momentum a bit. WKU is 5-1 all-time vs. ODU.
7. Rice (2-3)
This Season's Meeting: Saturday, November 13, 1 p.m., Rice Stadium
Last Meeting: September 1, 2016, WKU 46, Rice 14
Offense: Rice played just five games in 2020 due to COVID-19, earning wins over Southern Miss and then-No. 15 ranked Marshall and competing in its three other contests against Middle Tennessee, North Texas and UAB. In those five games, the Owls averaged 23.4 points and 331.6 yards per game – and their highest-scoring outing was a 34-point performance in a double overtime loss to MTSU.
Quarterback Mike Collins led the way for Rice with 802 yards and 10 touchdowns with just one interception a season ago, but he's now departed from the program and the Owls will have to turn to someone else to pilot their offense. Wide receiver Jake Bailey – who made 23 receptions for 276 yards and two TDs – is back, though, so that'll certainly help the Owls.
Defense: Rice was a stout defensive team a year ago, giving up just 18.8 points and 341.6 yards per game behind defensive lineman Elijah Garcia (28 tackles) and safety Kirk Lockhart (28), who combined for 56 total tackles.
In the Owls' five games in 2019, they allowed 40, 6, 27, 0 and 21 points.
Summary: WKU has only played Rice twice with blowout wins in 2015 (49-10) and 2016 (46-14). The Owls haven't put together a winning season since 2014, but they showed signs of improvement a season ago and should have it takes to compete in the league in 2021.
6. Florida International (0-5)
This Season's Meeting: Saturday, October 23, 6 p.m., FIU Stadium
Last Meeting: November 21, 2020, WKU 38, FIU 21
Offense: FIU failed to win a game last season and struggled on the offensive side of the ball, averaging 22.4 and 283.3 yards each outing with its highest-scoring performance being 34 points in a season-opening loss at Liberty.
Quarterback Max Bortenschlager threw for 284 yards and two touchdowns with an interception in 2020, while fellow quarterback Kaylan Wiggins recorded 81 passing yards and an interception, alongside 79 rushing yards and a TD, and those two guys are expected to compete for the starting job.
Running back D'vonte Price, who rushed for 581 yards and four TDs, is back and will be looked upon to carry a bulk of the Panthers' offense production.

Defense: The Panthers' leading tackler – defensive back Richard Dames – had just 35 total tackles a year ago as the team allowed its opponents to score 32.4 points and tally 422.8 yards per game. FIU's defensive unit wasn't good by any means, and it'll have to significantly improve if Butch Davis' club wants to win in 2021.
Summary: After going 23-16 from 2017-19, including a nine-win campaign in 2018, FIU hasn't recorded a win since. The Panthers have slipped towards the bottom of the Conference USA pool, and they need to have a much better season in 2021 in order to swim back to a respectable level. WKU has won the past two meetings over FIU.
5. Middle Tennessee (3-6)
This Season's Meeting: Saturday, November 6, 2:30 p.m., Houchens-Smith Stadium
Last Meeting: October 3, 2020, WKU 20, MTSU 17
Offense: Quarterback Asher O'Hara did all he could for Middle Tennessee a season ago – he just didn't have any help, and that was clear as could be on a weekly basis. O'Hara threw for 1,960 yards and 12 touchdowns with eight interceptions while rushing for 601 yards and seven more TDs.
With O'Hara now transferred to Sacramento State, Rick Stockstill must find the guy to replace him – and that's not going to be an easy task for a team that put up 365.9 yards per game in 2020.
Defense: MTSU wasn't good by any means on the defensive side of the ball a season ago as it allowed 35.4 points and 446 yards each outing. The Blue Raiders allowed 40 or more points in four of their nine games, including 52 points to North Texas, 47 to Troy, 42 to Army and 42 to Marshall.
The good news for Middle is that senior defensive leader Reed Blankenship – who recorded 76 total tackles last season – is back, so having that level of experience and talent should help out.
Summary: Middle Tennessee compiled a 52-38 record from 2012-2018, including four eight-win seasons in 2012, 2013, 2016 and 2018. Since 2019, the Blue Raiders have went just 7-14 – winning four games in 2019 and three last season.
Stockstill has done a tremendous job leading the program , but he's going to have to turn things around and get the Blue Raiders back on track in 2021 before all hell breaks loose in Murfreesboro.
4. Florida Atlantic (5-4)
This Season's Meeting: Saturday, November 20, 11 a.m., Houchens-Smith Stadium
Last Meeting: November 7, 2020, FAU 10, WKU 6
Offense: After averaging 36.4 points and 448.6 yards per game in 2019, Florida Atlantic's offensive production significantly dropped off last season as the Owls put up just 18.8 points and 324.6 yards through nine games. FAU's highest-scoring outing was a 38-point performance in a win over FIU.
Quarterback Nick Tronti, who threw for 905 yards and six touchdowns with three interceptions a year ago, is back, but he'll be competing with Javion Posey (395 yards, two TDs, three INTs), Willie Taggart Jr. and Michael Johnson Jr. for the starting job.
Defense: FAU only gave up 17.4 points per game in 2020 and held its opponents to a 35% conversion rate on fourth down. Linebacker Chase Lasater recorded 72 total tackles, including five for loss, and he's back to lead the way on that side of the ball alongside outside linebacker Ahman Ross, who had 58 tackles with 5.5 TFLs.
Summary: Former WKU head coach Willie Taggart's first year in Boca Raton wasn't bad at all – he led FAU to a winning season during a COVID-19 season and has the personnel needed to be successful in 2021. The Owls won last year's meeting against the Hilltoppers and lead the all-time series 9-3, with WKU's last win coming in 2016.
3. Charlotte (2-4)
This Season's Meeting: Saturday, October 30, 3 p.m., Houchens-Smith Stadium
Last Meeting: December 6, 2020, WKU 37, Charlotte 19
Offense: Charlotte was only able to play six games in 2020 due to COVID-19, but the 49ers averaged 27 points and 377.7 yards each outing behind the arm of quarterback Chris Reynolds, who threw for 1,305 yards and and eight touchdowns with two interceptions.
With the veteran Reynolds back for another season and with solid supporting pieces around him, Charlotte has the offensive firepower needed to score points and win games in 2021.
Defense: The 49ers weren't the best on the defensive side of the ball as they allowed their opponents to put up 32.5 points 419.5 yards per game. Charlotte allowed 21 or more points in each of their six games and gave up 53 points in a loss at Duke.
Linebacker Tyler Murray – who recorded 49 tackles and two interceptions – will anchor the unit, while fellow linebacker Luke Martin (27 tackles) will also play a significant role.

Summary: Charlotte's football program has been on the come-up under head coach Will Healy, and the 49ers will look to take another step in the right direction this season. WKU has won three of the four meetings over Charlotte, but the 49ers are one of those squads that simply can't be overlooked come late October.
2. UTSA (7-5)
This Season's Meeting: Saturday, October 9, 6 p.m., Houchens-Smith Stadium
Last Meeting: November 22, 2014, WKU 45, UTSA 7
Offense: Behind the dominant duo of quarterback Frank Harris and running back Sincere McCormick, UTSA averaged 28.2 points and 415.3 yards per game and put together a 7-5 season in 2020. While Harris threw for 1,630 yards and 12 touchdowns with six interceptions, he also rushed for 528 yards and nine more TDs, and McCormick tallied 1,467 yards and 11 TDs on the ground.
With both Harris and McCormick back for the 2021 campaign, UTSA is bound to have another successful season – and opposing defenses are going to have their hands full trying to contain the Roadrunners' 1-2 punch.
Defense: UTSA's defensive unit was solid a year ago, giving up 25.7 points each outing. Safety Rashad Wisdom, who tallied 95 total tackles – 60 of those being unassisted – with four interceptions and two forced fumbles, is back to lead the Roadrunners on that side of the ball.
Summary: Although they're both in Conference USA, WKU and UTSA never play each other. This season's October meeting will be just the second all-time matchup between the Hilltoppers and Roadrunners, and it should be a competitive game in Bowling Green.
1. Marshall (7-3)
This Season's Meeting: Saturday, November 27, 2:30 p.m., Joan C. Edwards Stadium
Last Meeting: October 10, 2020, Marshall 38, WKU 14
Offense: Marshall averaged 28.5 points and 391.3 yards per game a season ago behind the arm of quarterback Grant Wells and legs of running back Brenden Knox. While Wells threw for 2,091 yards and 18 touchdowns with nine interceptions and rushed for 174 yards and two more TDs, Knox ran for 887 yards and nine TDs as the duo led the Thundering Herd to a 7-3 campaign.
Although Knox has departed from the program, Wells is back and has what it takes to lead the Herd to another successful season. Alongside Wells, Marshall brings back running back Sheldon Evans (327 yards and four TDs), wide receiver Corey Gammage (409 yards and four TDs) and tight end Xavier Gaines (404 yards and four TDs), meaning the Herd has plenty of firepower on that side of the ball.
Defense: The Herd's defense was stout in 2020, allowing just 13 points 279.4 yards each outing. Other than giving up 22 points to UAB and 20 to Rice, Marshall held its opponents to under 20 points per game and delivered a 59-0 shutout in its season opener against Eastern Kentucky.
Defensive leader Tavante Beckett (90 tackles, 7.5 TFLs, 4 fumble recoveries, 2.5 sacks, 2 forced fumbles) has departed from the program, but Marshall still has linebacker Eli Neal, who recorded 75 tackles with five tackles for loss and an interception in 2020.
Summary: Coming into the 2021 season, Marshall looks to be the favorite in the Conference USA East Division. Despite veteran coach Doc Holliday no longer being at the helm and with Charles Huff entering his first year as the Thundering Herd's head coach, Marshall has the pieces needed in order to be very, very good – no matter who's coaching.
Marshall has won four straight over WKU and leads the all-time series 8-4.